Golden Gate Canyon State Park
I spent last week with family in the deep recesses (well, the drive was slow, anyway) of Golden Gate Canyon State Park in the foothills of Colorado. It's a great place, not too far from civilization, and filled with beautiful, varied hikes. I highly recommend a visit. If you go:
Here
are the general factoids.
You can camp in one of the two campsites or get adventurous and purchase a backcountry permit; rent
yurts or modest cabins
; or if you have a large group, rent the cabin at the
working ranch
(ambitious, looking-to-learn types) or
Harmsen Ranch Cabin
(sitting around stuffing faces and drinking beer all day types). I can tell you that Harmsen Ranch Cabin was really nice.
Panorama Point in the park
There are not only a ton of great hikes with beautiful views, but several small ponds for fishing, biking trails, rock climbing spots, horseback riding available for rental, and so, so many picnic areas. We spent a lot of time exploring the ins and outs of
Mule Deer Trail
and Panorama Point, which were walkable from our cabin. Dude's Fishing Hole, reachable via
Snowshoe Hare Trail
, is an idyllic spot with some modest rocks for kids to climb, and we watched the Fourth of July fireworks from City Lights Ridge, where we saw at least a dozen different suburban shows going on all around Denver. You can see the entire metropolitan area from here.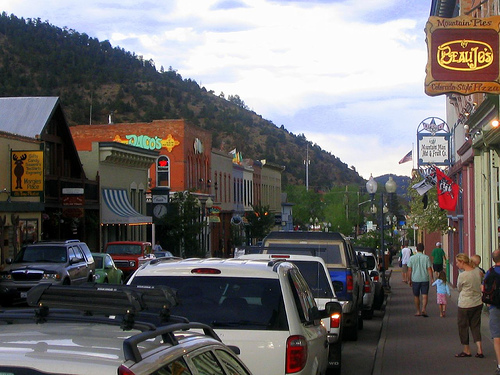 How adorable is Idaho Springs??
Casino meccas
Black Hawk
and
Central City
are the nearest towns, but
Idaho Springs
isn't far away, either, and it's accessible from the aptly named historic stretch known as
Oh My God Road
. Visit
Tommyknocker
Brewery and Restaurant if you go.
Golden
is about a 45 minute drive, and it's a good place to load up on groceries and get your fill of touristy cuteness before leaving the land of straight(ish) roads.
Buffalo Rose
is a pretty skeevy looking townie bar from street view, but the food is delicious. The Cuban sandwich is the bomb.
A view from Oh My God Road. No guardrails necessary.