How was everyone's Thanksgiving? Good? There are so many reasons to drink these days, and it is best done with your close friends and allies with a carby snack nearby (I like popcorn, which can be made with a drink in your hand). These are a little fussy and require some work in the kitchen (not too much, don't worry!), so they make a great distraction from real life and serve as a fun group activity.
Tangerine-Cranberry Old Fashioned
Makes 1 drink
2.5 oz. bourbon (I used Bulleit rye)
1 tsp. cranberry simple syrup*
5-6 fresh cranberries
2 slices autumn tangerine or satsuma
2 dashes Angostura bitters
Sugared cranberries* and cinnamon stick to garnish
Muddle tangerine or satsuma and fresh cranberries in the bottom of an old fashioned glass. Add cranberry simple syrup, bitters, and bourbon. Stir briefly and add one large ice cube. Garnish with sugared cranberries on a pick and a cinnamon stick.
*You can make the sugared cranberry garnish and the cranberry simple syrup together. Combine 1/4 cup water and 1/4 cup sugar and simmer to dissolve the sugar. Add about 1/2 cup cranberries. Remove from heat and let sit for 10 minutes. Strain, reserving both the cranberries and the syrup. Arrange half of the cranberries on parchment paper on a wire cooling rack and let sit for one hour; these will be your sugared cranberries. Return the rest to the pot with the syrup and muddle. Let sit for another 10-20 minutes and strain again, discarding the muddled berries. Once an hour has passed, pour 1/4 cup sugar onto a plate and roll the remaining cranberries in it to coat.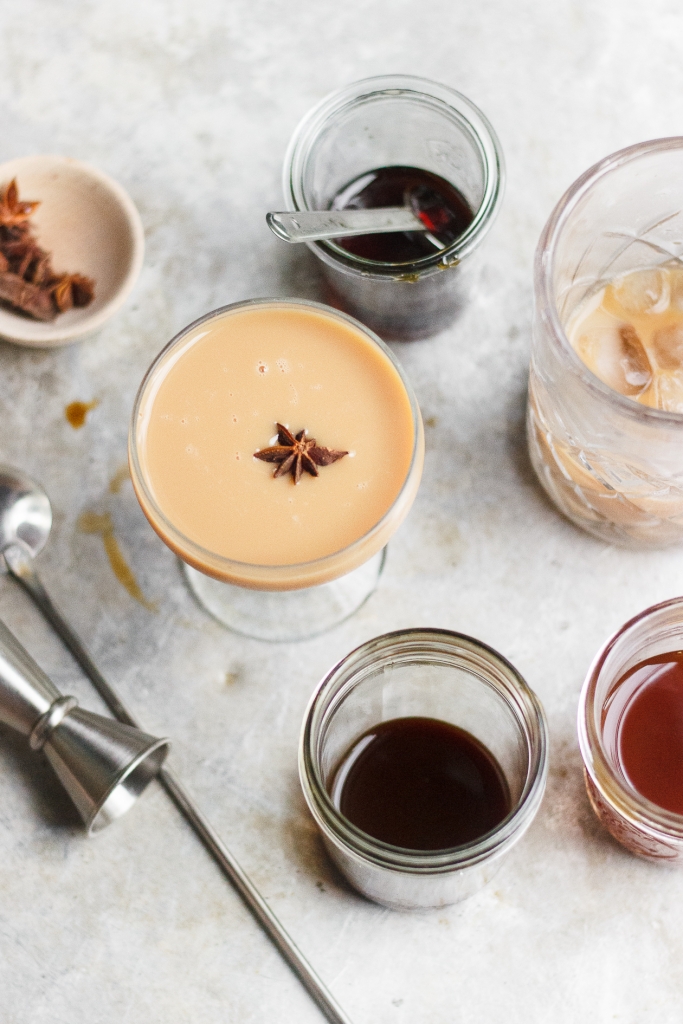 The Dirty Chai Nightcap
Makes 4 drinks
4 chai tea bags
1 cup filtered water
4 ounces espresso
1 cup almond milk
4 ounces whiskey
1 tablespoon maple syrup
star anise, garnish

Heat the water to almost boiling and steep the tea bags in it for 5 minutes. Discard the tea bags and cool the chai concentrate.

Make 4 ounces of espresso and cool.

Combine in a shaker the chai, espresso, milk, whiskey, and maple syrup. Strain and pour into 4 martini glasses, and top with star anise.
Apple-Ginger Martini
Makes 1 drinks
2 oz vodka
2 oz apple-ginger-lime juice (recipe below)
1 teaspoon maple or honey simple syrup (made by mixing equal parts of maple syrup or honey with filtered water until fully dissolved)
Crushed ice
1 large tart green apple, cored and cut into slices (ex. granny smith)
¼ cup water
1 tablespoons grated ginger
The juice of 1 large lime
Apple slices for garnish (optional)

Make the Green Apple and Lime Juice:
Add the apple slices to a high speed blender along with the water, ginger, and lime juice and blend on high until smooth. Strain through a fine mesh strainer pressing on the pulp to get all of the juice and set aside.

Make the Green Apple Ginger Martini:
Add the juice, the vodka and the maple syrup to a cocktail shaker. Fill the shaker halfway with ice and shake vigorously until the shaker turns frosty. Strain into the chilled glasses. Garnish with the reserved apple slices if desired