Estes Park, Colorado, is one of those mountain towns that's probably more heavily inhabited in the summer than in the winter. Because skiing is nonexistent in this town, it serves instead as a great escape from the heat down in the Front Range for locals, and as the home of the awe-inspiring
Rocky Mountain National Park
to the rest of the world.
I'm not even going to try to cover the park here. There are books and books out there, which is probably a good indication that my little old blog post will be inadequate. Instead, let's talk about the town itself.
Restaurants
are not amazing here, but they're trying.
COFFEE/BREAKFAST: A must before a long hike in the Park, right? Kind Coffee is the alternative to Starbucks, with well-made cappuccinos, a beautiful, sun-drenched store, and mediocre pastries. I love going here in the afternoon for a pick-me-up when the daily rain shower starts, and when it's over, I take my leftover coffee outside and walk along the river behind the store.
Kind Coffee, 470 East Elkhorn Avenue
Notchtop Bakery has perfectly fine coffee, but nothing fancy, and they also serve looseleaf teas (standards and their own blends) in French presses for the tea drinkers in your group. They bake all of their own goods, which are delicious, and they also serve a pretty satisfying plate of eggs. They're only open from 7am-3pm, so I like to make this my breakfast stop. It's a bit hidden within the Safeway shopping complex off Big Thompson, so maybe use a GPS for this.
Notchtop Bakery & Cafe, 459 E Wonderview Ave
LUNCH: Please do yourselves the favor of eating at the buffet (or off the menu, if you prefer) at the tiny and charming Nepal's Cafe. It's basically Indian food, if you're nervous about what the Nepalese eat, it is delicious and kept fresh on the buffet, and the old couple who own the place are sweet, sweet, sweet. It's also located along all those touristy shops and galleries, the perfect place to be when it starts raining around 1pm, which it will, every single day.
Nepal's Cafe, 184 E Elkhorn Ave
DINNER: This is where it gets obvious that you're in a mountain town, which are not generally known for their fine cuisine. I am a sap, and the very first place I ate two days after moving to Colorado was Grumpy Gringo, so I still go there. It's on the edge of town when you first enter, it's fine (but not amazing) Tex-Mex fair, and the patio has a perfect mountain view.
Grumpy Gringo, 1560 Big Thompson Ave
970-586-7705
Sweet Basilico has simple, unsurprising Italian food that is cooked well. I have often gone here for a late lunch after a big hike, but going for dinner means you can enjoy the interesting wine list, as well. I always get a plate of pasta with my choice of sauce and protein or veggie. The pesto with mushrooms is great. The pizza is very good, too.
Sweet Basilico, 430 Prospect Village Dr
970-586-3899
There are several expensive restaurants that promise a fine dining experience with amazing local cuts of meat. Most of these places are full of shit (I'm looking at you, Nicky's). But if you must take the plunge,
Appenzell
is quite good, and a bit newer, which gives me hope for the future of my Estes Park dinners. Happy hour is from 3-6, and the cheese plates and tapas are nice (and probably enough if you went to Sweet Basilico or Nepal's Cafe for lunch). The wine list is nicely varied.
Appenzell Restaurant and Pub, 1100 Big Thompson Ave.
(970) 586-1122
Housing is all over the place, from simple motels to luxury vacation rentals. Book early.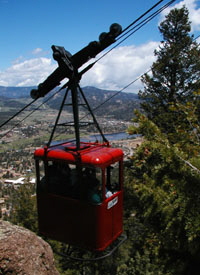 In town,
take advantage of the greenbelt while your lazier family members are still snoozing. Pick it up from the beautiful Estes Park Visitor's Center and walk along the river, behind the shops and good old Kind Coffee.
Estes Park Visitor's Center
500 Big Thompson Avenue
800-443-7837
Not unlike my memories of Wisconsin Dells, there is a small contingent dedicated to maintaining a retro collection of family-friendly activities. The dorkily named Fun City offers mini-golf, go-karts, water slides, bumper cars, and paddle boats, and it's smack in the middle of downtown.
Fun City
455 Prospect Village
970-586-2828
Ride the Aerial Tramway from downtown up to Prospect Mountain. It's not as spectacular as a ride in, say, the Alps, but it's pleasant and it's not going to freak out Grandma, either.
Aerial Tramway
420 E Riverside Dr.
970-586-3675
There are an inordinate number of shops in town--you'll know you've hit them when you start dodging large groups of slow-moving pedestrians wandering in the middle of the road, zombie-style, from one "Indian" jewelry shop to the next. There are a lot of t-shirt shops, but embedded among all the crap are a few beautiful galleries, too (once again within walking distance of Kind Coffee on the greenway). When your hiking blisters are well-developed enough to take a break from the park, it might be worth the wander. Once. I also like to stop at the sort of scuzzy, delightfully townie Wheel Bar in the midst of it all to gather my courage to continue. Have a brat and a beer. It'll get you through.
Wheel Bar
132 E Elkhorn Ave
(970) 586-9381
Oh, also, this is the Stanley Hotel:
The Shining
was filmed here. You have to pay just to go in and walk around. Let me know if it's worth it.