It's hot, and we are painting the house, sort of all day every day at this point. In the first few days of our hardcore painting routine, we had leftovers in the fridge we could pop in Chef Mike when our stomachs started growling. Now we've moved on to variation on an Asian-y salad, in which we fill large bowls with prepped ingredients and drizzle one or more homemade dressings and some fresh cilantro from the garden on top. It's as easy as leftovers, but fresher and healthier. Whether or not you are painting a house, you might also benefit from a similar scenario at this point in the season.
Finely chop or shred and store in containers in the fridge: napa cabbage, radishes, carrots (I shred these in the food processor), green onion, red bell pepper.
"Cook" and contain: rice vermicelli, which can soak in hot water while you're chopping the vegetables. Drain and season with salt and a little rice vinegar.
Optional
proteins
can be added to the mix: any leftover cooked chicken, pork, shrimp, or fish can be thrown in, or do what I like to do and bake some
marinated tofu
.
Toppings: crushed peanuts, torn fresh cilantro, mint, and/or basil leaves (do this at the least minute, obvi)
Here's what my fridge looks like on the "salad shelf":
Dressings: any salad can become either disappointing or amazing based on the dressing. If you don't want to make anything, some Sriracha mayo 1/4 cup mayo + 1 teaspoon or more of Sriracha), jarred hoisin sauce, and seasoned rice vinegar all add great flavor instantly. But it's nice to have a couple of more complex dressings on hand, anyway, so you don't get bored.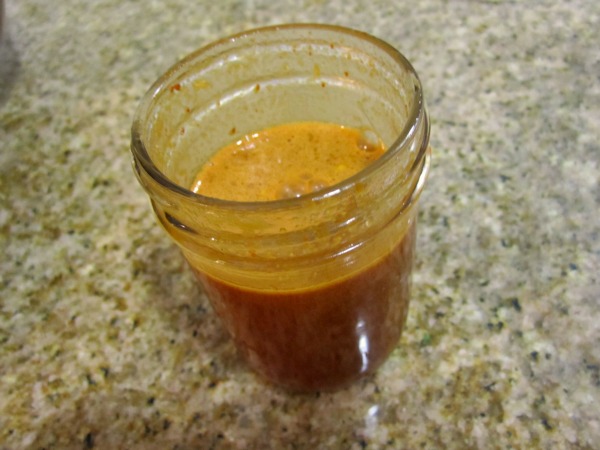 Dressing #1:
3 tablespoons lime juice
3 tablespoons fish sauce
1 tablespoon light brown sugar
1 small garlic clove, finely grated
1 small jalapeno, chopped
Dressing #2:
2 tbsp fresh lemon juice
2 tbsp well-stirred tahini
1 tbsp white vinegar
2 tsp grainy mustard
1 tsp olive oil
1 clove garlic, minced
½ tsp salt
freshly ground pepper to taste
1/3 cup water
Dressing #3:
1/2 cup rice wine vinegar
1/4 cup water
1/4 cup yellow or white miso
2 tablespoons sugar
2 tablespoons minced peeled fresh ginger
2 tablespoons low-sodium soy sauce
3 teaspoons canola or grapeseed oil
1 teaspoons dark sesame oil