I'm not going to write you a special blog post about how you can honor the very real holiday called Valentine's Day by eating and drinking red-colored things while peering at your lover around a huge, throbbing vase of red roses. I think Valentine's Day is stupid, roses are expensive and die quickly in vases, and food is food, either good or bad, but it is not romantic or non-romantic. However, I will reminisce about some of my favorite indulgent cocktails that you may or may not find appropriate for this weekend. And if you are single, as I was for many Valentine's Days in my life, I hope you enjoy it however the hell you want, and do not feel bad about not being part of some nauseating couple who tortures everyone else with their existence.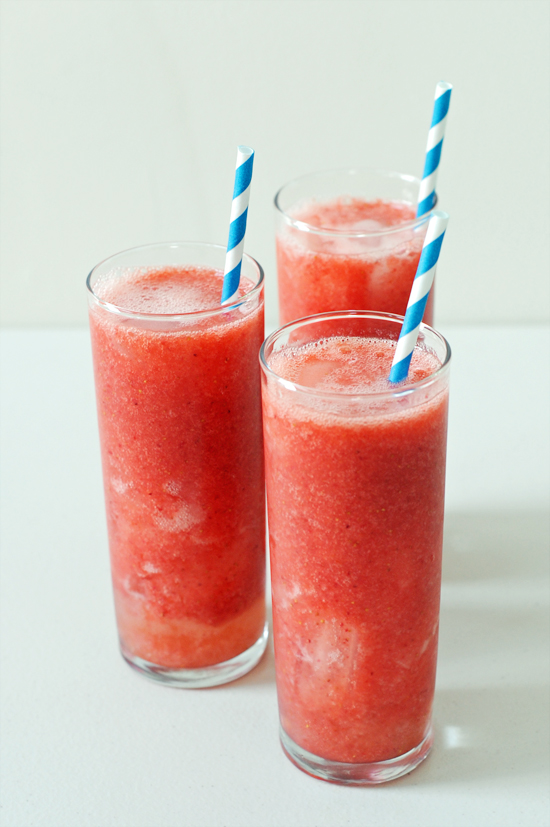 Redhead in Bed
Enough for a small group
3 pounds strawberries, hulled and coarsely chopped
2/3 cup granulated sugar
1/2 cup plus 2 tablespoons citrus vodka
1/4 cup freshly-squeezed lime juice
Ice
1/3 cup chilled Riesling
In a bowl, toss the strawberries with the sugar and let stand, stirring occasionally, until the strawberries release their juices, about 10 minutes.

In a blender, combine half each of the strawberries and their juices, the vodka, and lime juice with 1 cup of ice and puree. Pour into a pitcher. Repeat with the remaining strawberries and juices, vodka, and lime juice and 1 more cup of ice.

Fill 10 collins glasses halfway with ice. Pour the cocktail into the glasses, top each with about 1/2 tablespoon of Riesling and serve.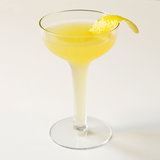 Bee's Knees
Makes 1 drink
1 tablespoon honey
2 ounces gin
1 tablespoon freshly squeezed lemon juice
1 tablespoon freshly squeezed orange juice
1 lemon twist, for garnish
Combine the honey, gin, and citrus juices in a cocktail shaker. Before adding the ice, stir well to incorporate the thick honey with the other liquids. Add ice and shake for 30 seconds.
Strain into a chilled coupe, garnish with a lemon twist, and think about how stupid everyone is.
Ginger Salty Dog
Makes 2 drinks
1 grapefruit, freshly squeezed, rind reserved
Coarse salt, to rim the glass
3 ounces vodka
1 1/2 ounces
ginger simple syrup
Run the grapefruit rind along the rim of the glasses, then dip the rim of each glass into a saucer filled with salt.

In a cocktail shaker, combine the vodka, grapefruit juice, ginger simple syrup, and ice. Shake until cold, then strain into two ice-filled glasses.