Ever since I got back from Italy a few summers ago, I have been a big fan of
farro
salads. But this could easily be done with some other grain--barley would be the most similar, but quinoa or cooked bulgar would also be quite pleasant, and even a chewy, short-grain brown rice would work. Substitute butternut squash for the sweet potato if you prefer, omit or swap the dried fruit, and use whatever nut you like. This makes a great lunch or dinner, and if you prep everything the night before (including making the grains ahead of time), you can pop the roasting pan in the oven as soon as you get home from work and relax with a nice bottle of wine while you wait.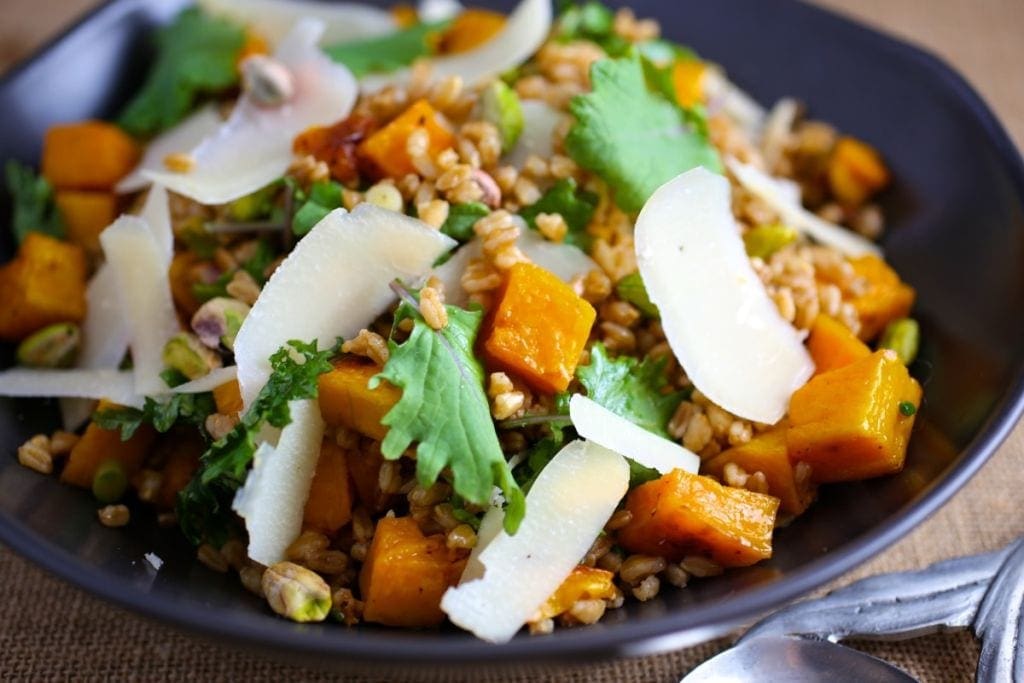 Farro with Vinegar-Glazed Sweet Potato and Apples
Serves 6
1/4 cup plus 3 tablespoons extra-virgin olive oil
1 small fennel bulb, finely chopped
1 small onion, finely chopped
5 garlic cloves, minced
Kosher salt
Pepper
4 cups water
2 cups farro
3/4 pound sweet potato (1 large), scrubbed and cut into 1 1/2-inch pieces
1/4 cup sherry vinegar
2 Granny Smith apples—peeled, cored and cut into 1 1/2-inch pieces
3/4 cup dried cherries, soaked in warm water for 10 minutes and drained
1 cup roasted cashews, coarsely chopped
3/4 cup coarsely chopped parsley
Shaved pecorino cheese, for serving

Heat 1/4 cup of the olive oil in a large saucepan. Add the fennel, onion, garlic and a generous pinch of salt. Cook over moderate heat, stirring occasionally, until the fennel is softened, about 8 minutes. Add the water and farro and bring to a boil over high heat. Reduce the heat to moderate and simmer, stirring occasionally, until the farro is tender and the stock is absorbed, 25 to 30 minutes.

Meanwhile, preheat the oven to 425°. On a large rimmed baking sheet, toss the sweet potato with the remaining 3 table­spoons of olive oil and season with salt and pepper. Drizzle with the sherry vinegar and roast for about 15 minutes, until just starting to soften. Add the apples and toss to coat. Roast for about 20 minutes longer, until the sweet potato and apples are tender but not falling apart. Let cool slightly. 


In a large bowl, toss the farro mixture with the dried cherries, cashews, parsley and the roasted sweet potato and apples. Season with salt and pepper. Transfer to plates, top with shaved pecorino cheese and serve.