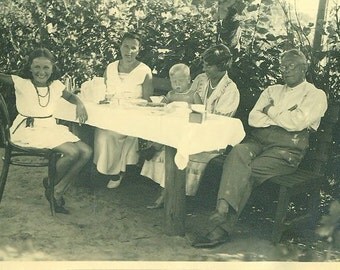 A colleague who grew up in New Mexico once told me about the time she spent teaching in Iowa. At the end of her first year, she had a potluck party for her college students, most of whom had grown up within 75 miles or so of their humble state U. She decided it would be fun to cook up a big batch of green chili, just like she had grown up eating in New Mexico, to share something from her culture with her students. They didn't like it. It was way too spicy for all of them (although, being from Iowa, they were extremely polite in their rejections). The students all brought typical Midwestern potluck fare, and my colleague was absolutely aghast. Snickers salad, various mismatched foods frozen in aspic, and hotdish all made the list, and they were all totally foreign and bizarre ideas to her. I loved that story when she told it to me years ago, because at the time I was new to the Rocky Mountain region and was therefore just learning what about my Midwestern upbringing was not universal. Now here I am, ten years on, and I do the same thing with my (almost always) non-Midwestern students. When I make some of these typical flyover-country "salads" for my students, I am a traditionalist, like a faithful Civil War battle recreationist. I do also update some of these for more healthy consumption when I'm trying not to embarrass myself with my peers. But for the record, everyone usually loves the unhealthy, Grandma Riner version...
"Oriental" Cole Slaw
: this one was so awesome to me as a kid, because it had uncooked ramen noodles in it! How radical is that?! My mom would never make it, I realize now because she had some standards.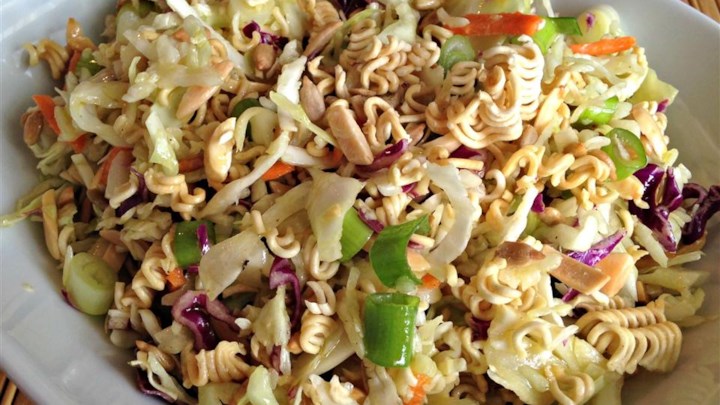 THE ORIGINAL:
Serves 12
1 16 - ounce package shredded cabbage with carrot (coleslaw mix)
4 green onions, thinly sliced
1 3-ounce package chicken-flavored ramen noodles, broken up
1/2 cup slivered almonds, toasted
1/2 cup sunflower seeds
1/2 cup salad oil
1/3 cup vinegar
1 tablespoon sugar
1/8 teaspoon ground black pepper
Combine coleslaw mix, green onions, ramen noodles (set aside seasoning packet for the dressing), almonds, and sunflower seeds in a salad bowl. Chill, covered, until serving time, up to 1 hour.

For dressing: In a screw-top jar, combine oil, vinegar, sugar, pepper and seasoning from the package of noodles. Cover and shake. Chill until serving time.

Before serving, shake dressing; pour over salad and toss to coat.
SUBSTITUTIONS / ADDITIONS:
Take out some cabbage and replace with finely chopped broccoli or sliced sugar snap peas
Ditch the sunflower seeds and almonds for cashews (or not)
Replace the uncooked ramen noodles with 3-4 oz. cooked angel hair spaghetti, soba noodles, etc.
Replace dressing with
this
ginger-sesame viniagrette
Broccoli and Raisin Salad: The combination of sweet, bitter, and salty actually makes this much better than you're probably expecting. Honestly, though, it does look like baby diaper on a plate.
THE ORIGINAL:
Serves 6
4
cups fresh broccoli florets (1 medium bunch)
3/4 cup golden raisins
1 small red onion, chopped
1/2 cup Miracle Whip
1 tablespoon white vinegar
2 teaspoons sugar
3 bacon strips, cooked and crumbled
In a large bowl, combine the broccoli, raisins and onion. In a small bowl, combine the Miracle Whip, vinegar and sugar. Pour over broccoli mixture; toss to coat. Sprinkle with bacon. Refrigerate for at least 2 hours before serving.
SUBSTITUTIONS / ADDITIONS:
Blanch the broccoli
Add 1 cup boiled new potatoes + 2 chopped hard-boiled eggs
Omit the raisins (you substitute halved grapes): seriously, the sugar in the dressing is enough
Sub vegan mayo (Just Mayo is great) for the Miracle Whip
Apple Salad: My grandma made this one a lot, and I never liked it. Somehow the mayo always ruined the apples for me (also, I hated bananas, because I was difficult). She never put mini-marshmallows in this, but I've seen it done at many a picnic. But it's still a salad, because MIDWEST.
THE ORIGINAL:
Serves 12
4 large apples, diced
1 cup chopped celery
1 sliced banana
1 cup chopped walnuts
1/2 cup mayonnaise
In a large bowl, combine the apples, celery, banana and walnuts. Add mayonnaise; toss to coat. Cover and refrigerate until serving.
SUBSTITUTIONS / ADDITIONS:
I'm just going to go ahead and make this the dessert it is trying to be. Add a cut up orange in there, too--what the hell. Get rid of the celery, and replace the mayo with honey-flavored Greek yogurt thinned out with a teaspoon or two of lime juice. Now you can put it on your waffles at brunch.
Snickers Salad: No one in my family made this, and I was always bummed. But Julie Hanson's mom made it, and I thought she was awesome (until I found out she was an alcoholic).
THE ORIGINAL:
Serves who cares you're going to die anyway
6 SNICKERS® bars, diced
12 oz. Cool Whip
5-6 green Granny Smith apples with peelings on, diced
Mix diced SNICKERS® bars with Cool Whip. Refrigerate overnight. This step is important. The next day, mix in diced apples. Chill at least 1 hour.
SUBSTITUTIONS / ADDITIONS:
Are you kidding? I just wanted you all to know that this exists. Don't make this if you are over 10 years old. However, if you are trying to suck up to a 10-year-old, you should definitely bring this to the party. And then drink a lot, because your life must be very sad to have to curry favor with a fickle 10-year-old.