Remember how
I was in New Orleans
, all too briefly, last month, and I stopped in for coffee and dessert at Rue de la Course near Tulane after totally stuffing my face at Jacques Imo's? Well, I was there with one of my favorite travelling and eating companions, Chiarra, and we actually split that almond cream cake at Rue de la Course. It was delicious, and it got me thinking about an almond poppy seed cake (well, muffins) I used to make in college. Now, combine that train of thought with Chiarra's recent request for a dessert recipe and the fact that I just missed her birthday, and you have this cake recipe, slightly altered from the way I used to make it in the 90s. So,
Overeating in NoLa + Chiarra likes dessert

Almond cream cake + Remembered Chiarra's birthday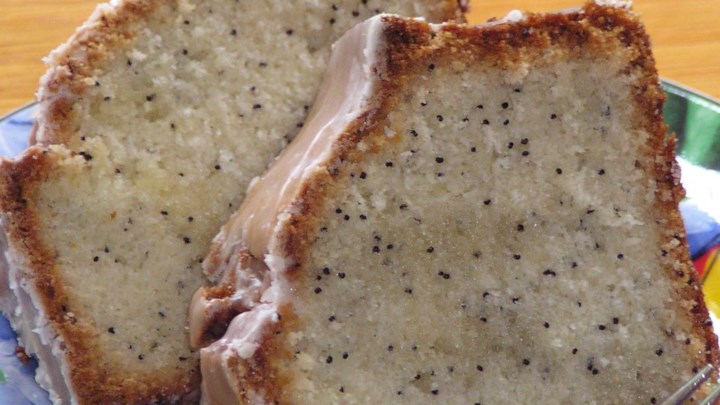 Almond Poppy Seed Cake
For the cake:
Baking spray, for pan
1 1/2 cups all-purpose flour
1/2 teaspoon baking powder
1/2 teaspoon salt
1/2 cup unsalted butter, at room temperature
1 cup sugar
3 large eggs, at room temperature
1 teaspoon pure vanilla extract
1/2 teaspoon pure almond extract
1/2 cup whole milk, at room temperature
2 tablespoon poppy seeds
For the glaze:
1 cup powdered sugar
1/8 cup orange juice
pinch of salt
Preheat oven to 325 degrees F. Lightly grease an 8" x 4" loaf pan. Whisk together flour, baking powder, and salt in a bowl.

Beat butter and sugar on medium speed with an electric mixer until light and fluffy, 1 to 2 minutes. Add eggs, one at a time, beating to incorporate after each addition. Beat in vanilla and almond extracts. Reduce speed to low and beat in flour mixture and milk alternately, starting and ending with flour mixture, just until flour is incorporated. Fold in poppy seeds. Pour batter into prepared pan.
Bake until a toothpick inserted in the center comes out clean, 45 to 55 minutes. Cool in pan on a wire rack for 15 minutes, then remove to rack to cool completely.
Meanwhile, make the glaze: Whisk together sugar, orange juice, and a pinch of kosher salt in a bowl. Add a little water or milk, 1 teaspoon at a time, to reach desired consistency. Drizzle over cooled cake and serve.