Are you all OK with me not repeating my Thanksgiving posts on roasting pork because I hate turkey, making fresh cranberry sauce, and serving it all with green beans and potatoes? Because I don't think you need it. Make what you want. Then, make a cake.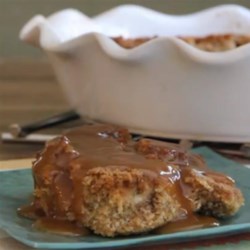 Spiced Apple Cake with Warm Rum Sauce
Serves 16
Apple Cake
6 cups peeled and thinly sliced Granny Smith apples (about 3 large apples)
1 ½ cups + 5 tablespoons granulated sugar, divided
4 teaspoons cinnamon
3 cups all-purpose flour
1 tablespoon baking powder
½ teaspoon salt
4 eggs
½ cup light brown sugar
1 cup vegetable or canola oil
½ cup orange juice
1 ½ teaspoons vanilla extract
Preheat oven to 350˚F. Grease, sugar, and flour a 10-inch Bundt or tube pan.
Combine apple slices with 5 tablespoons granulated sugar and cinnamon; set aside.
Beat eggs and remaining granulated sugar and brown sugar. Add vegetable oil, orange juice, and vanilla; beat well. Gradually blend in flour, salt, and baking powder until well mixed.
Pour one third of the batter into the pan. Top with half of the apple slices, overlapping slightly. Pour half the remaining batter in top of apples to cover, then top with remaining apple slices. Finally, top with remaining batter, making sure apples are covered.
Bake 55 to 60 minutes, until the top is golden and a knife inserted near the center comes out clean. Let cool in pan for 10 minutes, then turn onto a wire rack to cool completely.
1/4 cup heavy cream
3/4 cup brown sugar
8 tablespoons unsalted butter
1 tablespoon rum
A generous pinch of salt
Combine all the sauce ingredients together in a medium saucepan over medium heat. Cook until butter is melted, sugar is dissolved, and the sauce is smooth.
To Serve
Cut some cake. Put what you want on a plate. Pour some rum sauce over it. Drink some more rum as you go.