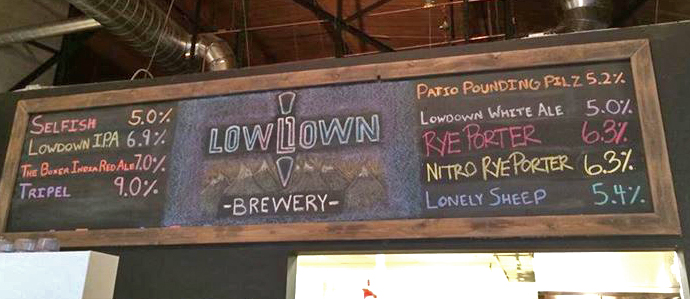 A couple of weekends ago, I had a trip planned to Denver on a Sunday to enjoy brunch and a concert. I knew it was a risk, as Denverites like their brunches almost as much as New Orleansians, but I decided to pop in to
City O City
, a hipster vegetarian place with an amazing breakfast menu and the quirky slogan, "breakfast all day". It was packed and there was an hour wait. No, I said, I am too hungry for that shit. So we wandered (well, drove) over to
Lowdown
, and I had the best tacos of my life. I'm not exaggerating. The beers were also fantastic--the grapefruity IPA, the toasty, chocolaty rye porter...I don't think I'll ever go anywhere else for brunch in Denver. The tacos, by the way, charmingly called "Soooo I'll Call You... (yes, the brunch items all have snarky, youthful titles implying that the diner is a sexpot who is always hung over on the weekends), are pictured below:
I ate one of them before I took the picture because I was so excited when I saw them. But I cannot just go down to Denver willy-nilly and eat tacos and drink beer whenever I want!, so I have also painstakingly recreated the deliciousness, which is actually quite easy to do, below. (Seriously, though, go to Lowdown. The Cuban was really good, too.)
Best Breakfast Tacos Ever
(copied from Lowdown's
Soooo I'll Call You...
)
Serves 4
Warm flour tortillas
1 pound chorizo without casings
½ pound bacon
8 eggs
½ cup milk
Salt and black pepper to taste
For the pico de gallo:
Four plum tomatoes, cored and chopped
¼ small red onion, finely chopped
¼ packed cilantro leaves, roughly chopped
Lime wedges, crumbled queso fresco, and crema* for serving
Combine the eggs, milk, and salt and pepper to taste in a bowl. Whisk thoroughly and set aside.
In a large frying pan, cook the bacon until crisp over medium-low heat. Remove to a paper towel-lined plate to drain. When cool enough, crumble into small(ish) pieces.
Pour out the grease and increase to medium heat. Add the chorizo, chopping into fine pieces with a wooden spoon as you cook. When chorizo is thoroughly cooked, move to one side in the pan and add the egg mixture to the other side. Working quickly and tilting the pan to keep eggs separate from chorizo, scramble the eggs, getting them a little bit dry. Mix the eggs and chorizo together and add the crumbled bacon.
To assemble, place some egg and meat filling in the center of a warm tortilla, top with pico and cheese, drizzle crema on top, and squeeze some lime over the top.
* crema can be faked with sour cream or plain yogurt and a little milk added to make it runny like a sauce.
My version at home.