Well, I don't know about you, but my zucchini crop is finally starting to fade, and here in Northern Colorado, it won't be long before heavy frosts put a rapid end to the sprawl that has taken over my back yard. So, this is the final installment of my Zucchini Project, a pretty, green flecked pancake you can eat on its own with any sauce you like on top, or as a side with meat or hot or cold salads. Really, you could use these recipes with other vegetables just as easily, so I haven't been torturing you with my zucchini obsession the way you keep telling everybody I am. Quit complaining.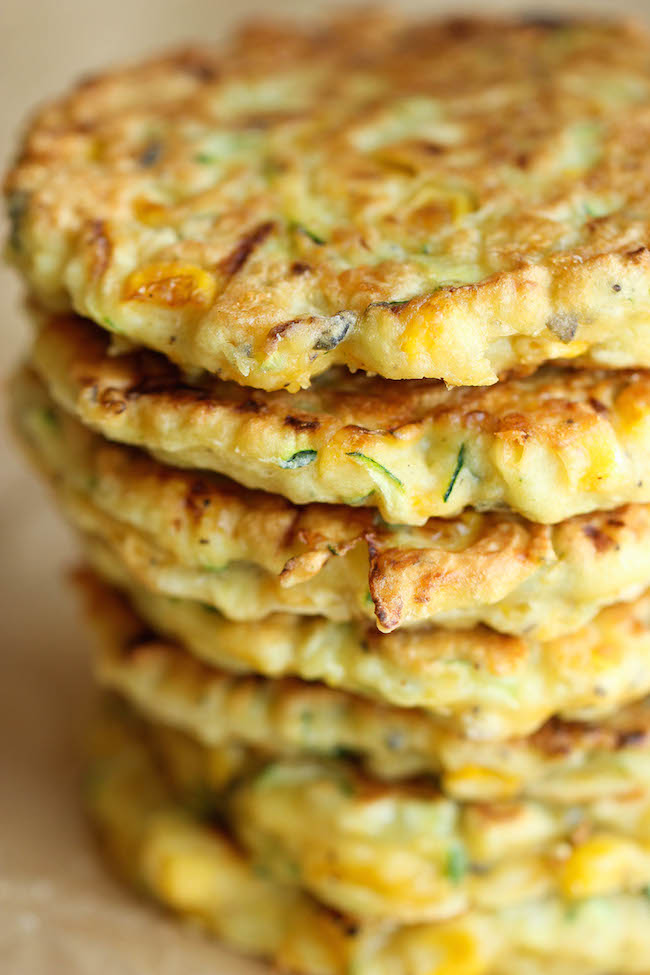 Zucchini Corn Pancakes
Serves 4
1 pound zucchini, grated
1 teaspoon salt
1 cup corn kernels, frozen, canned or roasted
4 large eggs, beaten
1/2 teaspoon dried basil
1/2 teaspoon dried oregano
1/4 teaspoon garlic powder
Kosher salt and freshly ground black pepper, to taste
1/2 cup shredded cheddar cheese
3/4 cups all-purpose flour
2 tablespoons olive oil
Place grated zucchini in a colander over the sink. Add salt and gently toss to combine; let sit for 10 minutes. Using a clean dish towel or cheese cloth, drain zucchini completely.

In a large bowl, combine zucchini, corn, eggs, basil, oregano and garlic powder; season with salt and pepper, to taste. Stir in cheese and flour until well combined.
Heat olive oil in a large skillet over medium high heat. Scoop tablespoons of batter for each pancake, flattening with a spatula, and cook until the underside is nicely golden brown, about 2 minutes. Flip and cook on the other side, about 1-2 minutes longer.
Serve hot; will keep in the refrigerator up to one week or in the freezer up to one month.