This recipe has gone cyclically viral at least three times since I got on Pinterest, and each time I think silently in my head, "Oh, I love those things". But who needs another bland thumbs-up on Pinterest? So I am saying it loud and proud right here: "I love these things"! They are tasty, quick to put together, and keep well in the fridge or freezer. I have made them in a pinch when company was coming over and I had nothing to offer alongside nerve-rattlingly strong coffee, when we are out of cookies and my husband is starting to tear the kitchen apart looking for dessert, and just because I love chocolate and peanut butter together. Everyone who has ever eaten one at our house loves them, and if you freeze them they'll keep for weeks (plus, you can eat them right out of the freezer--the fat content in the peanut butter keeps them from getting too hard).
The recipe I originally pinned comes from Gimme Some Oven's blog and can be found
here
. I de-hippied them a little bit so that I wouldn't have to make a trip to Vitamin Cottage for ingredients, and the result is found below.
Be forewarned, though, fare reader--whenever a dessert-like item is presented to you, filled with fat and sugar, no less, as a "healthy snack", you know that's bullshit, right? These are globs of peanut butter, chocolate chips, and honey. Don't eat too many in one sitting.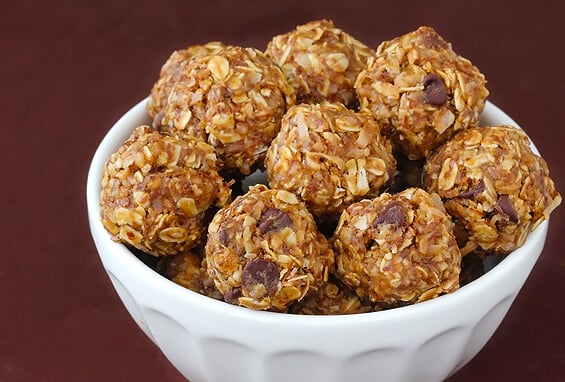 Photo from Gimme Some Oven.
No-bake Energy Bites
Makes about 20-25 balls
1 cup (dry) oatmeal (I also used old-fashioned oats)
2/3 cup coconut flakes
1/2 cup peanut butter
1/2 cup ground flaxseed
1/2 cup chocolate chips
1/3 cup honey
1 teaspoon ground cinnamon
1 tsp.
vanilla extract
Stir all ingredients together in a medium bowl until thoroughly mixed. Let chill in the refrigerator for half an hour. Once chilled, roll into small balls. Store in an airtight container and keep refrigerated for up to 1 week, freezer up to 2 weeks.