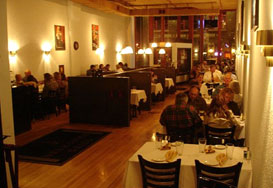 Last Saturday night,
I found myself
in charming
Rapid City
looking for a good meal and a generous glass of wine (the wine goes without saying, right?). Extensive research on Open Table yielded four restaurants in the city, and after a complex equation involving reading reviews and checking time availability (I'm too old to eat dinner at 9pm, thank you very much,
Corn Exchange
), I chose
Delmonico Grill
on Main Street.
Main Street in downtown Rapid City, by the way, is adorable; a cute central area with fountains and impromptu live concerts, boutiques, the four "foodie" restaurants Open Table noted, and for some odd reason, at least eight coffee shops within a four-block radius.
I don't know if the other three restaurants acknowledged as being "Fit for Foodies" are, but Delmonico is not. Nicely decorated with the uniform slate gray walls, high ceilings of an early 20th century building, distressed hardwood floors, and lots of space around tables, the look is decidedly "Midwest tries to do fancy". Which is fine, but nothing special.
Organization, or perhaps work schedule, was the first apparent problem at Delmonico. My friend and I had a reservation for 7pm; it took us ten minutes of standing at the front of the house before the hostess appeared to even take our names. She was visible, don't get me wrong--she was bussing tables and appeared to be trying to placate a rather fussy-looking two-top the whole time we waited. But as a result, no one was there to actually do the job of a hostess. Fifteen minutes more, and we were finally seated, at 7:25pm, for our 7pm dinner reservation, after watching the hostess set our table in fits and starts amidst interruptions from other customers and wait staff. Sigh.
Our table service was excellent (thanks, Matt); the waiter appeared quickly to get our drink orders, was knowledgeable about the menu, and had that knack for appearing just when we were ready to order or had a question. The restaurant's policy, or perhaps it was Matt's, regarding substitutions was also very friendly; my companion easily changed the side that was supposed to come with her dish, which is an understandably frustrating thing for some chefs to handle.
The wine list was long and represented Midwestern tastes--Jam Jar Merlot was as sweet as the Lambrusco I used to drink as a twenty-something in Italy, and there were several Rieslings and Piesporters. There were others, too, but if you have a sweet tooth, you will definitely be satisfied with the wine selection. I ordered the seared ahi tuna with Tonoto sauce and asparagus as my side (I loved that I got to choose my side), and it was really lovely. The thin, mild tomato (Tonoto) blended sauce in the bottom of the dish was nothing special, but the ahi was seared to perfection and topped with a wonderful, generous garnish of fresh parsley, red onion, diced tomato, and capers. The asparagus was not seasoned at all, but its crisp-tender consistency was just right. I also had a homemade Caesar salad to start, and the dressing was quite assertive. Except for the lack of salt, I loved it, actually--present anchovy and a bracing garlic flavor showed an aesthetic towards actually being able to taste flavors in your food--but it was a bold move for a restaurant filled with middle-age couples and business professionals. I can imagine some complaints about it, but perhaps I'm wrong. Perhaps Rapid City likes its garlic as much as I do.
My friend did not fare as well. She started with the French onion soup, which was salty and pleasantly flavorful, with a strong presence of sherry. Again, bravo on the bold flavors, but some may describe the lack of balance in these starters as a bit too rough for fine dining. She then ordered the seafood of the day, which was a chili-lime rubbed seared salmon. The sear was incredibly thick and hard, the fish inside was bordering on dry-- in other words, too much time in the pan. The most unfortunate aspect to the fish was its flavor, however: no chili-lime to speak of, but rather fishy. (It always strikes me as humorous when we complain about fish being too "fishy", but after all, that strong flavor is a sign that it's none-too-fresh, isn't it?) She substituted the chili-lime rice (I wonder if that flavor would have appeared!) for the rosemary-garlic mashed potatoes. She thought they were bland; I thought they were subtly scented with rosemary and appropriately salted, like good comfort food. We both agreed, however, that they were over-whipped to the point of being almost gummy. I would suggest, if one is to offer something as down-home as mashed potatoes with the skins in, hand "smashed" potatoes might be more appropriate. This over processed mash needed some texture and levity.
I will say this for Delmonico Grill: on a Saturday night in mid-October, it was filled to the gills, with no sign of slowing down when we left after 8:30pm. This might mean it really is one of the best restaurants in town, but if so, Rapid needs a new kid on the block. The front of the house was a hectic mess, the food was quite mixed in quality, and this made Delmonico far from the home-run that a restaurant with $30+ entrees should offer. One would need to become a regular to learn which menu items are worth ordering, but it's not worth the expense.