It's not exactly winter anymore, but it's also not strawberry season yet. You can buy loads of flavorless "fresh" strawberries to make this pie, but frozen works perfectly, with a little cornstarch to sop up the juices. It's one of my favorite ways to alleviate my spring fever.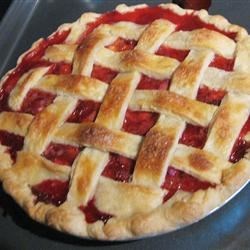 Tart Strawberry Pie
Serves 8
6 cups frozen strawberries
¼ cup sugar
1 tsp powdered cardamom
6 tbsp cornstarch
1 tsp vanilla
1 tbsp lemon juice
Make the strawberry filling:
Let the strawberries thaw in a colander to the point where they are no longer icy but are still firm. Place in a bowl with all the other ingredients and stir thoroughly. Set aside for 15 minutes.

Put your pie together:
Preheat the oven to 425 degrees.
Pre-bake the shell according to package directions (or, prick sides with a fork, line bottom with parchment paper and dried beans as weights, and bake about 10 minutes, or until sides start to get crusty).

Pour the filling into the crust. Place the second (unbaked) on top of the pie dish and with your fingers or with a fork crimp the edges to seal them. Cut some slits at the top of the pie. Sprinkle 1 tbsp of sugar on the crust.
Place the pie pan on a baking sheet and bake for 20 minutes. Then lower the heat to 400 degrees and bake another 30 minutes. Once more lower the heat to 350 degrees and cook 20 more minutes or until the juices have thickened and are bubbling.