Happy Memorial Day to you all here in the States, and happy start to cookout season everywhere in the Northern hemisphere (I hope)! Perhaps you already have your party well-set with a menu you devised three weeks ago and a fridge full of all the ingredients you need to get through the day. Jerks. Or perhaps you are still getting ready to make a last-minute run to the store and hope to be back before your firsts guests arrive. As I head out the door to do this very thing, here are the summery staples I'm looking for, and the very easy things I plan to do with them: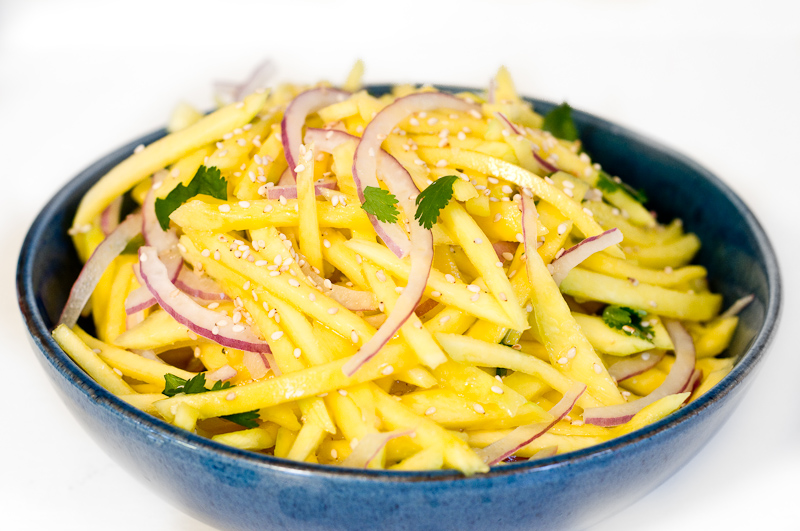 Mangoes
are so totally not from here, but somehow that doesn't seem to matter anymore. I see them in the stores all the time. If you can buy them early enough to let them ripen, there's nothing better than fresh mango slices sprinkles with chili powder and dressed with a little lime juice. If you're buying them for use today and they're still on the tart side, try this refreshing
Vietnamese Green Mango Salad
(underripe yellow mangoes work well, too).
Meat
for grilling is ubiquitous at Memorial Day Cookouts. Please don't limit yourself to burgers and hot dogs. It doesn't matter what you do to them, they are SO BORING. Visit the DFT archives for tips on grilling amazing
shrimp
,
pork
, or some very special
vegetarian patties
.
Fresh
green beans
are coming into season now, and they make a great addition to a vinegary, mustardy
potato salad
that can be served at any temperature.
Rhubarb
and
strawberries
go so well together. Try them in a slab pie, even easier than a regular pie with some puff pastry on hand.
Rhubarb & Strawberry Slab Pie
2 sheets frozen puff pastry, thawed
1 pound rhubarb, cleaned and cut into 1/2-inch pieces
1 pound strawberries, hulled and quartered
1 1/3 cups sugar
1/3 cup all-purpose flour
1/2 teaspoon ground cardamom
1 tablespoon pure vanilla extract
Preheat oven to 375°F.

Make the filling: In a large bowl, toss together rhubarb, strawberries, sugar, flour, cardamom, and vanilla. Set aside.
On a floured work surface, roll one sheet of puff pastry out to a 12" x 16" rectangle and place in greased jelly roll pan that's 10" x 14" x 1". Fill with prepared fruit and brush edge of dough with a bit of water. Roll second pastry sheet out to an 11" x 15" rectangle and place on top of fruit. Seal the dough together, tuck excess into pan, and crimp the edge. Cut vents in the top and bake until the crust is golden and the center is bubbling, 50 minutes to 1 hour.