This post is in no way seasonal , and it probably isn't that hip (though perhaps I can up the cool factor by linking to my most popular post of all time, my
review of Uncle in Denver
). But as you know, I love noodles of any kind, and I am always inspired by others' creativity when working with my favorite carb. So this weekend (and for several to come), I'll be pigging out on some of these delicious inventions, and you should, too!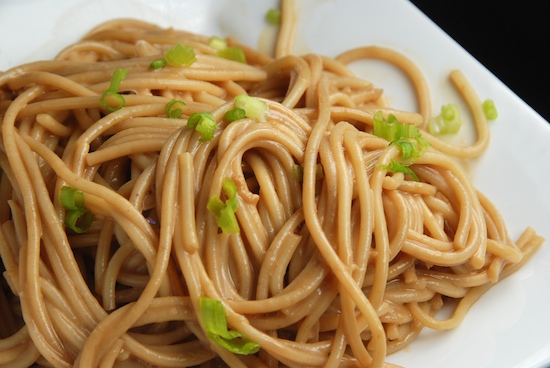 ASIAN-Y
Fake some traditional Szechuan pork noodles with these
Spicy Garlic Noodles with Crumbled Tofu and Cucumber Salad
These
Smoked Tea Black Bean Noodles
have a lot going on, and you can easily leave out the pork (or trade it for the tofu, above).
Umami Cold Noodles
uses one of my favorite ingredients, black vinegar!
ITALIAN-Y
Bacon and Beer Carbonara
--whaaat?!?!?!
Thanks,
Oh My Veggies!
, for the reminder of how beautiful some simple
Zucchini and Lemon Spaghetti
can be.
SPAGHETTI WITH CAULIFLOWER, GREEN OLIVES AND ALMONDS
. That is all.
EASTERN EUROPEAN-Y
Vegetarian
Kasha Varnishkes
(above) from--who else ?--Chicago Tribune. This is a really great, really easy recipe.
This
Hungarian Mushroom Pasta
is basically stroghanoff without the cheap red meat. Yum.
Mustard Spaetzle with Chives
may sound insane, but I promise you they are delish.