I have never liked Valentine's Day, not when I was single (duh), not when I was dating, and not now that I am married. It's whiny, cloying, needy, and totally made up to trap people into looking like jerks if they don't spend enough money on arbitrary gifts like dry, dusty chocolates in heart-shaped boxes. Do you feel stupid yet? Dump the roses and stew in hatred with me--it's fun!
Or maybe I'm just looking for an excuse to drink... that is definitely possible. But you know what? Who cares? This week I challenge you all to celebrate your independence from Hallmark's impositions, whether you are happily in a relationship or fabulously single. Treat yourself to a decadent, complicated cocktail every day this week and roll your eyes at your childish lemming friends.
Monday
(Oops, you'll have to drink two tonight, because we missed it!)
Ex-Boyfriend:
Toast your stupidest Ex and thank Buddha s/he's out of your life
1 oz. X-Rated Fusion Liqueur

2 oz. vanilla vodka

2 oz. orange Juice

1 oz. pineapple Juice

1 oz. cranberry Juice
Fill a Highball glass with ice. Combine liqueur, vodka, and juices in the glass and enjoy.
Tuesday
Cupid's Broken Arrow
:
3 oz. mango vodka

1/2 oz. triple sec

1 oz. cranberry juice

splash of fresh lime juice
Shake ingredients with ice and strain into a glass. Garnish with a cherry.
Love on the Rocks:
1 ½ oz. cherry vodka

4 oz. ginger ale

splash of grenadine
Shake ingredients with ice and strain into a glass. Garnish with a cherry.
Adios, Motherf-er:
½ oz. vodka
½ oz. rum
½ oz. tequila
½ oz. gin
½ oz. blue curacao liqueur
2 oz. sweet and sour mix
2 oz. lemon-lime soda
1 maraschino cherry
1 lemon slice
Pour all ingredients except soda in chilled glass filled with ice cubes. Top with soda and stir gently. Garnish with a maraschino cherry and lemon slice.
Dark Chocolate:
1 ½ oz. cachaca

½ oz. Jago Cream Liqueur

½ oz. Navan

4 oz. hot chocolate mix

whipped cream

chocolate shavings
Mix all ingredients in a tall handled glass. Pour and thoroughly stir in the hot chocolate mixture. Top with whipped cream and chocolate shavings.
Saturday
You'd better make some strong coffee after the terrible week you've had. What were you thinking?!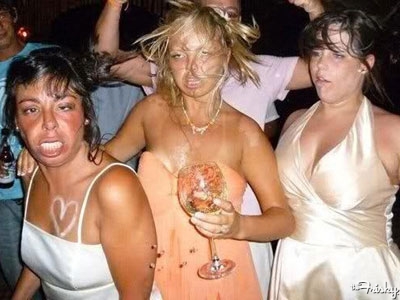 Yeah, let's hear it for best friends!