During certain times of the year (like now, which is why you are getting other people's recipes today--shut up if you don't like it), I barely have time to sleep or use the toilet, let alone eat a nutritious, well-balanced meal. My choices while driving between rehearsals and concerts are generally tan-colored fast food or energy bars (strangely, they are also tan-colored). I have long chosen energy bars thinking that they were good for me, but lo and behold, they're
filled with arsenic
. Awesome. So now I have to make my own, damnit, and I'm not happy about it. Luckily, these homemade options are delicious, easy to make (and to find ingredients for), refrigerate and freeze well, and are non-carcinogenic. I've
posted one of these before
, but here are my top picks for reasonably healthy, filling snacks on the run:
Pumpkin Peanut Butter Oatmeal Bars (Vegan, Gluten-Free)
1/2 cup peanut butter
1 cup pumpkin puree
2 cup oats (whole rolled, not quick cook; use certified gluten-free if necessary)
1 cup light brown sugar, packed
1/2 cup granulated sugar
1 tablespoon pumpkin pie spice (reduce/increase to taste)
1 teaspoon cinnamon (reduce/increase to taste)
1 tablespoon vanilla extract
Optional: Add raisins, nuts, chocolate/white/peanut butter chips to the mixture.
Combine all ingredients into a mixing bowl and stir by hand. Spread batter (it will be pretty moist) into a foil-lined and spayed 8 x 8 or 9 x 9 pan. Bake at 350F for 22-25 minutes or until toothpick inserted in center comes out clean. The bars may still look underdone, but that's ok because they will continue to set up as they cool. Allow to cool
very well
before slicing. Store extras on the countertop, refrigerator, or
in the freezer
for long term storage.
Peanut Butter Banana Oat Breakfast Cookies with Carob / Chocolate Chips
2 ripe bananas, mashed until smooth & creamy
1/3 cup peanut butter ~ creamy or chunky
2/3 cup unsweetened applesauce
1 scoop vanilla protein powder
**
(can be made without, cookie will just be lower in protein)
1 tsp vanilla extract
1 1/2 cups quick oatmeal ~
uncooked
(
or use
old fashioned oats for more oatmeal texture)
1/4 cup chopped nuts (peanut, walnut, or your favorite)
1/4 cup carob or chocolate chips
(**optional)
Preheat heat oven to 350 degrees.
In a large bowl, mix mashed banana & peanut butter until completely combined then add in the applesauce, vanilla protein powder & the extract~ mix again until all are completely combined.
Add in the oatmeal & nuts to the banana mixture & combine. (** add the optional carob / chocolate chips at this time if you want them mixed throughout)
Let dough rest for 10 minutes.
Drop cookie dough, by spoonfuls, onto a parchment paper lined cookie sheet & flatten cookies into circles. (** if you just want the carob / chocolate chips on the top of the cookies, add now)
Bake cookies approx. 20-30 minutes (some like their cookies less cooked, some cooked more - try it both ways to find which works best for your tastes) or until golden brown & done. Remove from oven & let rest on cookie sheet for 5 minutes, then move to cooling rack. (if you want the traditional fork tong marks on the cookies, use a pizza cutter or sharp knife to score the tops of the cookies while they're still warm)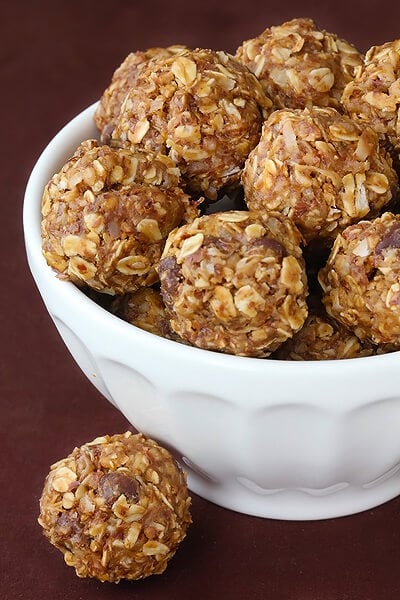 No-Bake Energy Bites
(PS--These are amazing right out of the freezer.)
1 cup (dry) oatmeal (I used old-fashioned oats)




2/3 cup toasted coconut flakes




1/2 cup peanut butter




1/2 cup ground

flaxseed

or

wheat germ


1/2 cup

chocolate chips

or

cacao nibs

(optional)




1/3 cup

honey

or

maple syrup


1 Tbsp.

chia seeds

(optional)




1 tsp.

vanilla extract
Stir all ingredients together in a medium bowl until thoroughly mixed. Cover and let chill in the refrigerator for half an hour.
Once chilled, roll into balls of whatever size you would like. (Mine were about 1" in diameter.) Store in an airtight container and keep refrigerated for up to 1 week.
Makes 12
3 cups rolled oat
2 cups spelt or whole wheat flour
½ teaspoon baking powder
2 teaspoons salt
¼ cup flax seeds
¾ cup chopped walnuts
1/3 cup peanut or coconut oil
1/3 cup unsalted butter
¾ cup maple syrup
½ cup natural cane sugar (we use brown sugar in my house)
2 large eggs, lightly beaten
Preheat the oven to 325°F with a rack in the top third of the oven. Butter a standard 12-cup muffin pan.
Combine the oats, flour, baking powder, salt, flax seeds, and walnuts in a large mixing bowl. In a medium saucepan over low heat, combine the oil, butter, maple syrup, and sugar and slowly melt together. Stir just until the butter melts and the sugar has dissolved, but don't let the mixture get too hot. You don't want to cook the eggs on contact in the next step.
Pour the oil mixture over the oat mixture. Stir a bit with a fork, add the eggs, and stir again until everything comes together into a wet dough. Spoon the dough into the muffin cups, nearly filling them.
Bake for 25 to 30 minutes, until the edges of each oat cake are deeply golden. Remove the pan from the oven and let cool for a couple of minutes. Then, run a knife around the edges of the cakes and tip them out onto a cooling rack. Serve warm or at room temperature.