Well, one of them, anyway. Before I moved to the Rockies almost ten years ago, my knowledge of Mexican food was limited to Taco Bell, watching Rick Bayless on PBS (but not actually cooking the stuff, because I couldn't find the ingredients), and that bastion of Midwestern cuisine, Chi-Chi's "Mexican" Restaurant. I liked it. I liked all the ingredients separately, and I was accustomed to bland food. Plus there was melted cheese.
Then I moved to Greeley, Colorado in 2003. Greeley has its low points (it smells like shit all the time from the nearby feed lots, we have a gang problem, the restaurants suck), but a definite plus in my book is the sizeable Mexican population here, and that means we have access to authentic ingredients, great banda music, and real Mexican culture in action. I still marvel at the festive quinceanera dress shops (like little, brightly colored wedding dresses) dotting a street full of bail bond offices and check-into-cash shops. The local tortillaria makes their tortillas fresh every day, along with beautiful green chili and tamales in the deli section, and some of the most elaborate cakes I have ever seen. The Cinco de Mayo parade that runs down our street is small, but full of heart and great music (and some pretty kick-ass paint jobs on the low-riders). And in the side of our local grocery market, there is a taco stand, which is where I will always claim I began my induction into the world of authentic, delicious Mexican food. Small corn tortillas topped with freshly grilled marinated meat or beautifully seasoned vegetables will then be ornamented with the appropriate condiments (cilantro, diced red onion, and a lime wedge for
carne asada
; queso and pickled onions for the pork). Although I recognize every nation's pride in their unique independence movements, Cinco de Mayo meant nothing to me before moving here. And it still can never mean to me what it does to the majority of my neighbors, but I feel a deep respect and appreciation for them, their culture, and most certainly their food.
Here are some of my favorite taco attempts at home:
Quick Fish Tacos
Serves 4
1/2 pound firm white fish (I like Swai)
peanut or some other neutral oil
salt + black pepper
about 3/4 cup cornmeal for coating fish
small corn or flour tortillas
condiments:
shredded red cabbage, lime wedges, jalapeno slices, sour cream, chopped cilantro
Rinse the fish and pat it dry. Cut into equal bite-size pieces (about 2 inch x 1 inch chunks), season with salt and pepper, and dredge through cornmeal, shaking off excess. Heat about 3 tablespoons oil in a large frying pan on medium high heat, and when it smokes, add the fish. Cook about 3-4 minutes on each side, or until golden brown. Drain on paper towels and serve with all remaining ingredients.
Grilled Shrimp Tacos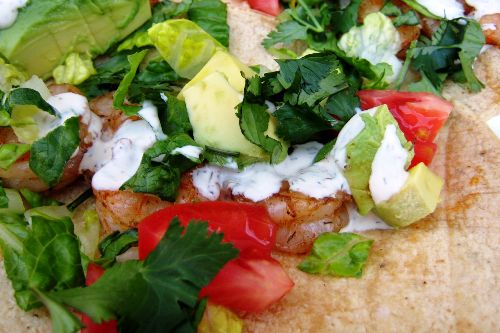 Serves 4-5
1 tablespoon olive oil
1 teaspoon chipotle or blended chili powder
1 teaspoon salt
1/2 teaspoon brown sugar


1 pound medium shrimp (about 20), peeled and deveinned
small corn or flour tortillas
condiments: 1 large chopped tomato, 1/2 cup frozen corn, thawed and drained, chopped avocado, sour cream, lime wedges, chopped cilantro, chopped red onion
I like to do these on skewers just so it's easier to turn the shrimp without losing any in the coals. Combine shrimp with oil, salt, and chipotle powder in a bowl and stir to coat. Thread through skewers and cook over hot coals about 20 minutes, turning once so that they brown on both sides. Remove from skewers and serve with all remaining ingredients.
And from some old posts...
Tacos with
Drunken Pintos and Roasted Veggies
Vegetarian "chorizo" tacos