I've been meaning to try using olive oil in a cake recipe for some time now, but I just don't make cakes that often. At a recent casual gathering, this recipe was a hit, and it can be made any time of year for a fresh, summery taste.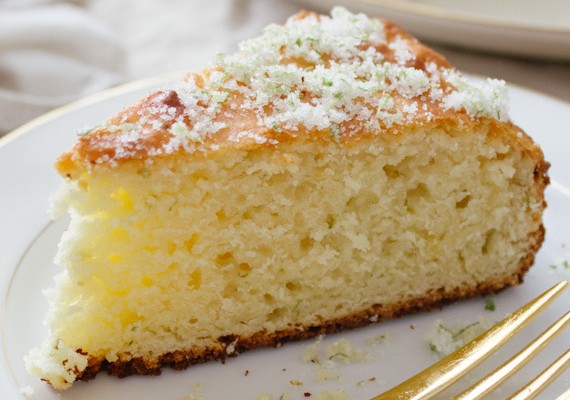 Olive Oil Cake with Lime
Serves 8-10
1 cup plain yogurt
1/3 cup of olive oil
1 cup white sugar
zest of one lime
1/4 cup lime juice
2 eggs
1 cup of unbleached white flour
3/4 cup whole wheat flour
1 1/2 teaspoon baking powder
1/2 teaspoon salt
Pre-heat oven to 350 F.
Grease a 9-inch round cake pan.
In a large bowl mix all the wet ingredients (yogurt through eggs) until well combined.
Add the flour, baking powder and salt and stir thoroughly.
Pour into the baking tin and cook for approx 45 minutes; the cake is ready when it has browned on top and a skewer inserted into the center comes out clean.
Leave it to cool in the cake tin for five minutes, and then invert it onto a cooling rack.
Once cooled, sprinkle with sugared lime zest (1 tablespoon of lime zest with 2 tablespoons of sugar).