Anything savory in your leftover pile works well with bread and eggs--sandwiches, quiches (large or small), or just a pile of scrambled eggs make good vehicles for meat and vegetables. Soups are a common standby (and those mashed sweet potatoes would make a great thickener for a broth), and chopped meat and veggies can easily go into a lasagne or be stir fried with some leftover rice or tossed with vermicelli or ramen. But nothing says "leftover fun" like Korean drunk food. Pa Jun is an eggy pancake usually filled with green onions and gobbled up late at night to soak up the alcohol poisoning that might otherwise ensue after a wild night of karaoke. It's also comforting, simple to make, and breathes new life into your leftover holiday meal.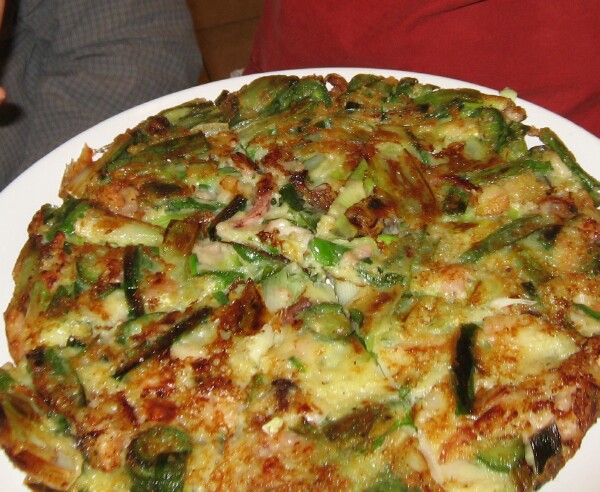 Pa Jun (Korean pancake) with leftovers
Serves 4 with a side salad
2 cups flour
2 eggs, beaten
1.5 cups water
1 cup diced leftover meat and vegetables
1 tsp salt
Oil for cooking
Mix all ingredients together and let sit for about 10 minutes. Check consistency before cooking – batter should be a little bit runnier than American pancake batter, so that the Pa Jun cooks quickly and evenly.
Heat a saute pan over medium heat and coat with a thin layer of oil.
Pour batter to fill pan in a thin layer (about 1/3 of your batter should fill a regular saute pan).
Cook for 3-4 minutes until set and golden brown on bottom.
Turn over with help of spatula or plate (or flip it in the air if you are good at that) and finish by cooking 1-2 more minutes, adding more oil if necessary.
Serve with soy sauce and Sriracha on the side.
* * * * * * * * * * * * *
Crepes are an equally logical vehicle for your leftovers--be sure to stir in some sauce or gravy if you have it, and combine whatever leftovers you like together. Those green beans with gorgonzola and bacon would be surprisingly good with a touch of cranberry sauce, by the way--get creative. Crack open a work beer to inspire you in the kitchen. If you make the crepes with chick pea flour, they'll have a pleasant, nutty taste and pack an extra protein punch.
Basic crepes
Serves 4
1.5 cup flours in any combination: chicke pea, whole wheat, unbleached white...
2/3 cup water
1 tablespoon lemon juice
1 egg
1 teaspoon salt
Combine all ingredients, adjusting flour content to produce a runny batter that will create a thin crepe.
C

ook

over medium heat in a large hot skillet that has been liberally prepared with cooking spray until golden on each side. Each crepe should fill the skillet, yielding a total of four.
Meanwhile, gently heat leftover filling(s) in the microwave or in a saucepan over medium-low heat: plan on 1 to 1.5 cups of filling per crepe. To assemble, lay one crepe on a plate, spoon one fourth of the filling in a line slightly to one side of the center of the crepe, and roll.
Some crepe fillings from our leftover menu:
Green beans with bacon and gorgonzola + cranberry sauce
Thai mashed sweet potatoes + roast meat (+ cranberry sauce)
Roasted vegetables with or without roast meat