Insert jazz hands here! Alright, I took that cutesy title from an article I got paid to write, so don't judge. But here's the thing: vegetables really get screwed over at Thanksgiving. At best they are ignored--steamed and tossed with a pat of butter and some salt; at worst, they are abused beyond all recognition (if you're from the
Midwest
, you know what I'm talking about). If we spent half the amount of time caring about the way we seasoned and prepared our vegetables as we do our meats, those side dishes would be the most interesting items on the table. So this Thanksgiving, I am on a quiet campaign to make people care about their veggies. No more cheese sauce! No boiling the stuff until it no longer needs to be chewed! Try some of these on for size...
Herbed Roasted Green Beans
Serves 6 as a side
2 lbs. green beans, trimmed
½ cup chopped walnuts
1 teaspoon chopped dried rosemary
1 teaspoon chopped dried thyme
½ teaspoon chopped fresh tarragon
1 teaspoon salt
1 tablespoon olive oil
Combine all ingredients in a bowl; stir to coat thoroughly. Spread out on a rimmed, parchment-lined baking sheet and roast on the middle rack of the oven at 475°F for 20 minutes or until beans are tender and starting to brown.
* * * * * * * * * * * * * *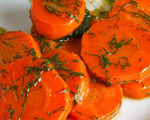 Steamed Carrots with Citrus-Dill Butter
Serves 6 as a side
5 cups carrots, peeled and sliced into ½-inch thick coins
4 teaspoons orange juice
1 tablespoon butter, cut into pieces
2 teaspoons fresh lemon and/ or lime zest
1 teaspoon fresh dill
salt and freshly ground black pepper to taste
Steam carrots to crisp-tender, about 5 to 7 minutes. Drain and place carrots in serving bowl; toss with all remaining ingredients and season to taste with salt and pepper.
* * * * * * * * * * * * * *
Zesty Brussels Sprouts
Serves 6 as a side
1½ lb. Brussels sprouts, trimmed and cut into quarters
1 tablespoon olive oil
2 tablespoons lime juice
1 teaspoon crushed red pepper flakes
salt to taste
In a large skillet over medium heat, heat the olive oil and then add the Brussels sprouts, cooking until they begin to brown all over, about 10 minutes. Lower the heat to medium-low and add the lime juice plus ¼ cup water. Toss in a pinch of salt, stir, and cover the pan. Cook until Brussels sprouts are tender and most of the liquid has evaporated, about 5 minutes. Stir in the crushed red pepper flakes and season with salt and more lime juice to taste.